Episodes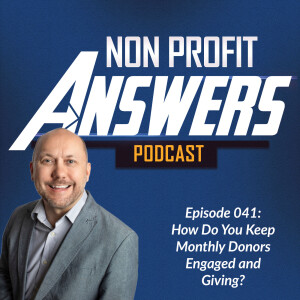 Monday Apr 10, 2023
Monday Apr 10, 2023
In this episode of Nonprofit Answers, we explore strategies for retaining monthly donors, including effective communication, personalized engagement, and creative recognition. We discuss the benefits of having a monthly giving program for both the nonprofit and the donor, and provide practical tips for making the process of becoming a monthly donor as easy and streamlined as possible.
We also discuss how to ensure that monthly donors stay engaged and continue giving over time, how to segment and personalize communications for monthly donors, how to address donor churn, and how to maintain the trust and transparency necessary for successful monthly giving programs. Finally, we share how nonprofits can create a sense of community and connection among their monthly donors.
Whether you're a seasoned fundraiser or just starting out, this episode provides valuable insights for anyone looking to improve their monthly giving program and build stronger relationships with their supporters.